It smashed
YouTube's all-time record
for most viewed African music video in the first 24 hours of release.
Now,
Diamond
and
Koffi Olamide
's hit
WAAH!
is the first video in the platform's history to hit a new record of
24 million
views in the period of its uploading.
Read more:
Zari Gives Love Advise- "Don't Settle!"
We've already written about how his beloved
fans came out in full support
to groove to his song 'Waah!' on YouTube. There was even a viral
dance challenge
that caught on across the nation. Here's a major update.
The last time we wrote, the song video had become the first by an African artiste to break over 2 million views in less than 24 hours. It had amassed 2.6 million views on YouTube.
And now – the song has attracted a whopping 24 million views! The video is one of the most watched videos on YouTube Africa.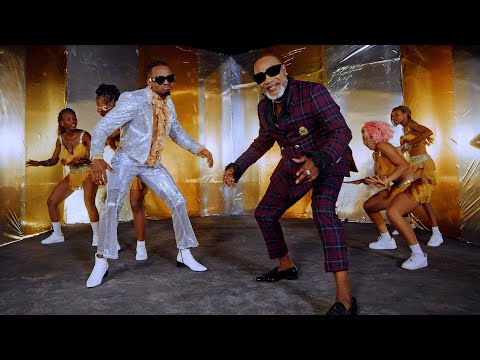 Viewers attracted by duo's star power and talent
Considering that it hasn't even been a month since its release, this is a groundbreaking achievement for the singer, songwriter, actor, dancer, and businessman. He released the 'Waah!' on November 30th.
Also read:
Diamond's Dad Seen Living A Poor Life (PHOTOS)
The song also features the legendary Koffi Olomide. Those familiar with Koffi Olomide's music and signature deep voice have commented their love and appreciation for the talented Congolese Rhumba artist in the video comments. In fact, many fans are expecting the video to become even more popular thanks to the combined star power of its two stars.
The song is an ode to harmony
Commenters have expressed how inspired they feel to see two musical legends from across borders combine their talents on this Youtube video. This pan-Africa message of harmony can be felt in the song's lyrics as well - it uses a mixture of Lingala and Swahili.
Many viewers have commented that they have watched the video multiple times. It's been especially popular as a Christmas tune, with its catchy beats, Mr. Olomide's raspy baritone, and, of course, Mr. Platnumz signature dance moves that have all his fans trying to copy his steps.
The video also harmonizes aesthetics with trendiness. It was directed by Kenny of Zoom Extra, a company co-owned by Kenny and Diamond. The song was produced by Wasafi Records producer – Lizer.
This isn't the first time Diamond Platnumz has made an impact on the international stage. Grammy Award winning musician
Alicia Keys
had formerly featured him on a track of hers. The song is called 'Wasted Energy' and Chibu Dangote is on the song for 26 seconds.
Diamond has taken to social media to
thank his fans
and spread positive energy. This is a fitting close to 2020. We're looking forward to more record-breaking songs from these talented artistes.