Juma Jux
has become a household name in the Tanzanian music industry with hits such as
Utaniua, Juu
.
He joined the music industry in 2005 and since then he's done nothing, but release great hit after great hit.
Having started his music at a very young age, Juma Jux said he had loving parents who gave him all the support that he needed to pursue his dreams.
This is his biography
Juma Jux Age
Born Juma Musa Mkambala, he was born 1 September 1989. He is 31 years old.
Juma Jux Early Life
Juma Jux was born to parents who were very supportive of his career choice and wanted him to excel.
In an interview with
Mseto East Africa
in 2019, Juma Jux revealed that his father passed away about 9 years ago. He mentioned that after his father's death, his mother was very supportive and she actually went an extra mile to pay for his first video shoot after he delved in the music industry.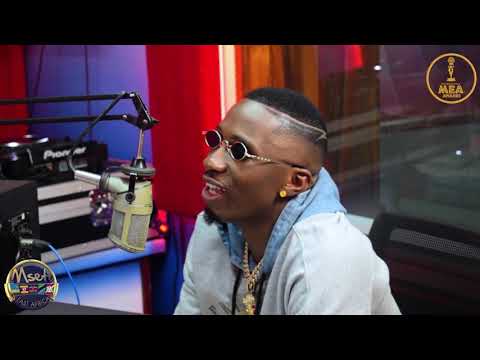 Juma Jux Relationship
Juma Jux was once in a relationship with
Vanessa Mdee
, but their relationship did not last and they called it quits.
Since parting ways with Vanessa Mdee, Jux has tried his best to keep things under the radar but his celebrity lifestyle cannot allow him to. In fact, he has repeatedly publicly commented on Vanessa Mdee's life, including
ridiculing her for quitting music
.

"Event itakuwa ya wasichana pekee yake na wanueme hawataruhusiwa…ni idea tofauti…wanawake kama mashabiki wangu hujibana kuhakikisha wako na mimi…fanbase yangu ni ya watoto wa kike wengi." Juma Jux said.

Juma is now dating Nayika, an Asian lady. However, that ship has sailed and Juma Jux revealed early 2020 why they parted ways.

"It didn't work out man, long distance is so difficult. Now sitaki wanawake wa mbali, wanawake wa mbali siwawezi, I can't take it anymore. Now I'm single. Nayika is from Thailand nilikuwa namjua kwa muda tukawa serious kidogo. The thing is distance tu, she can't move here and I can't move there because I have things to do kwa hiyo tulikuwa tunafika mahali inakuwa too much so we parted ways," Jux explained.


Juma Jux Career
Juma Jux started out a rapper and he released his first jam
"Nakudata"
in 2005 before he switched to R&B. He later formed a music group, Wakacha, in 2008 with Kamikaze and Gigga Flow and together they released hits such as 'Facebook Gal', 'Here We Go' and "Mimi na Wewe".
He then signed with Manecky who encouraged him to try another angle with his music and that is when he decided to go solo.
Jux released a number of hit singles such as "Napata raha", "Sipati karaha" and "Mwambie yeye" produced by Manecky, "Uzuri wako" and his latest single "Nitasubiri" produced by Bob Manecky, which is doing well in the music charts; both under the A.m record label.
He made his debut on Coke Studio Africa paired with Mozambican songstress Shellsy Baronet in 2019.
In 2020 he released the video for the hit single 'Siombaya' which became on instant hit on Tanzania's airwaves.
His album, '
The Love Album'
, has some collaborations from top artists like
Nyashinski
from Kenya, Singah from Nigeria,
Diamond Platnumz
, Ruby,
Vanessa Mdee
, Tommy Flavour, Joh Makini, Q Chief and Gnako from Tanzania.
Juma Jux Awards & Nominations

His time in the music industry has seen him grow a huge fan base for himself because of the great hits that he's always releasing. Here are some of the awards that he took home:

2015 - Best RnB Song at the Kili Music Awards
2017 - Best East African Music Video at the Zanzibar International Film Festival
2017 - Best Male artist in East Africa at the AFRIMM Awards
Juma Jux Controversy
Juma Jux has been making huge strides as an artist in the music industry and there's no doubt that he's a force to be reckoned with. However, the artist shared some vies of how he felt his ex had a made a huge career mistake.
Speaking to Wasafi media in the midst of promoting an ''all female'' event dubbed, King of Hearts, Jux mentioned that his ex,
Vanessa Mdee
quitting music was a big mistake and went ahead to share how he can never can never give up his music as nothing in life is permanent.
"Don't let your life depend on someone. Love someone but don't make it as through, if she/he is not there everything goes wrong, no. There are second chances in life. Vanessa and I separated, I got into a relationship that was I was happy and now she is in a relationship. And that's how life is. Right now, I can't say because of that, I will kill myself or leave music no. Because of love? No. I can't do that."
Jux said.
His remarks sort of like insinuated that Vanessa had quit because of her relationship with famous
actor, Rotimi
. This interview came a few months after
Vanessa Mdee
announced her exit from the music industry saying she needed some time to herself and her new found love.
A photo once emerged of Juma Jux unashamedly parading his machine in a tight boxer. The photo made rounds on the internet and many female fans were going wild. In the professionally taken pic, Jux was standing, shirtless, with just a boxer, parading his manhood. The bulge was so big that some joked that it may be edited or he has a rat inside his pants.
Juma Jux Fashion
Juma Jux is the CEO and Founder of renowned fashion brand: African Boy. Once Juma Jux was named one of the most fashionable musicians in East Africa by Fashion magazines such as
Baakubwa
and
Muzuka
.
Juma Jux Net Worth

Juma Jux is estimated to be worth $2 million. With the sales of his music and his fashion line, he is doing well for himself. Fans can only wait in anticipation to see what he comes up with next.



Main image credit: Instagram